PA Bill Number: HB2745
Title: In firearms and other dangerous articles, providing for the offense of undetectable firearms.
Description: In firearms and other dangerous articles, providing for the offense of undetectable firearms. ...
Last Action: Referred to JUDICIARY
Last Action Date: Oct 18, 2018
---
---
North Carolina Self-Defense: I would have taken the shot: Iredell man holds would-be burglar at gunpoint until deputies arrive
:: 04/12/2018
Oakly was barking. That was unusual, because she seldom actually barks, especially at 7:20 a.m.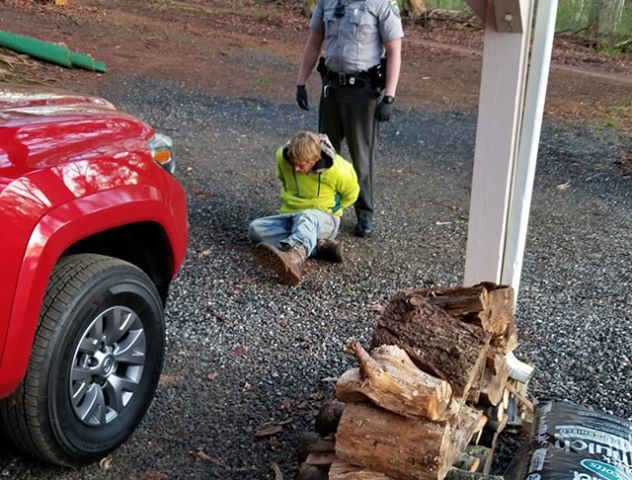 That's why Oakly's owner, Owen Turman, decided to get out of bed and head downstairs to quiet the dog. It was Sunday morning, after all.
What Turman didn't expect was a strange man in his outdoor sunroom, trying to get into the house.
Turman, who lives on Culpepper Road off Wilkesboro Highway, quickly snatched his .22-caliber bolt-action rifle and went around back to confront the stranger.
"I saw him turn the handle on my door and twist real hard trying to get in," said Turman, recounting the events of April 8. "When I saw that, I instantly put my rifle up at him."
He asked the man what he was doing, told him to get away from the door and to lie on the ground. The stranger followed orders, but didn't answer questions, like who he was or what he was doing. Turman, still in his underwear, called police.
And he waited.
His fiancé and two daughters, one 6 years old and the other an infant, remained inside, unaware of what had unfolded outside.
"My main concern was I have to protect my home and my family," Turman said. "The only thing I was thinking (was) keeping my family safe."
He couldn't help but worry about the possibility of his oldest daughter coming downstairs and finding her dad pointing a gun at another man. He was worried he'd have to shoot someone in front of his little girl.
"I want her to know home is a safe place," he said.
Turman said that while the suspect lay on the ground, he began rummaging through his pockets. He kept trying to take needles out of his pockets and throw them under Turman's vehicle, Turman recalled.
"Look, man, you're making me nervous," Turman recalled telling the man before ordering him to stop. But the man continued to dig in his pockets. An Iredell County deputy ran up seconds later.
Turman said the intruder struggled with the deputy but eventually was taken into custody.
According to an arrest report from the Iredell County Sheriff's Office, the suspect, Jason Elihue Millsaps, 22, faces charges of breaking and entering, possession of a Schedule IV controlled substance, possession of drug paraphernalia and resisting a public officer.
Millsaps was given a $1,500 secured bond.
His arrest report said he had consumed drugs or alcohol before the arrest.
Turman said it seemed that the man was "drugged up" because he couldn't answer questions coherently. He added that his home surveillance video recorded Millsaps peeking into the family vehicles.
Turman said he is thankful to be a gun owner who was able to protect his family. He also said he appreciated his usually quiet dog and the responding deputies.
Turman, who has had trouble sleeping since the incident, said he knows things could have ended differently.
What if the suspect hadn't followed Turman's order? What if he had fought against Turman? Would Turman have pulled the trigger?
He paused for a long while.
"If it came down to it, my family is most important," Turman finally said. "I would have taken the shot if it came down to it."
http://www.statesville.com/news/i-would-have-taken-the-shot-iredell-man-holds-would/article_9bb99316-3db6-11e8-b1c7-ebc49b8ebfa6.html