PA Bill Number: HB1764
Title: In inchoate crimes, providing for the offense of possession of firearm or other dangerous weapon in public recreation area.
Description: In inchoate crimes, providing for the offense of possession of firearm or other dangerous weapon in public recreation area. ...
Last Action:
Last Action Date: Aug 20, 2019
---
---
In Pa. Legislature, the fight over who should control guns reignites
:: 05/14/2019
HARRISBURG — When Pittsburgh officials passed measures placing some restrictions on guns within city limits, they re-energized a fight at the state level about which branch of government should regulate the weapons.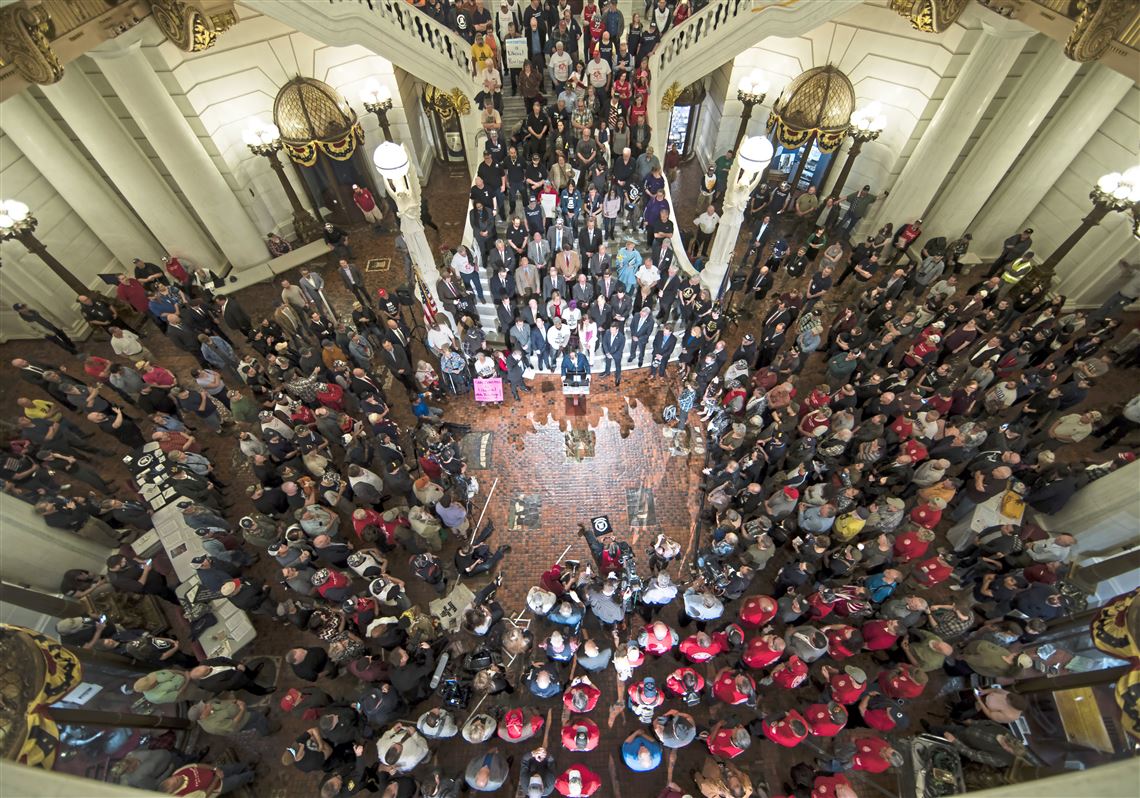 In recent weeks, two Republican lawmakers have begun pushing bills that would strengthen the state's control over gun regulations and make it easier for some groups, such as lobbyists, to recoup legal fees in their fight over cities' rules.
At the same time, two Democrats are preparing legislation that would clear the way for cities or counties to implement their own gun restrictions, at least in some cases.
State lawmakers, who rarely pass gun laws at their level, have two options: Build upon current law to further cement their regulatory power, or cede some of that territory to cities and counties. It's possible they'll gridlock again.
"Everyone has very strong opinions about guns and gun control," said state Sen. Maria Collett, a Democrat from Montgomery County, who is pushing to give cities some additional flexibility. "The issue of gun ownership is complex and deeply rooted in our culture."
The fight for stronger state control
After roughly 13 minutes of discussion and no testimony from outside experts, the Senate's local government committee advanced a bill last month that would further stipulate that the state intends to regulate guns and declare "null and void" local ordinances on the matter.
It would also grant standing in court challenges to gun owners and groups representing them and direct courts to award them "reasonable" fee reimbursement if they win challenges over local gun regulations.
"The sad thing is that we shouldn't have to even be enacting this legislation, because it's clear already that this is not permitted," said Sen. Wayne Langerholc Jr., a Republican from Cambria County who is sponsoring the bill. "This gives additional avenues and procedures for individuals who are aggrieved by this."
Several portions of state law — and some county codes — dictate that no municipality shall enact measures "dealing with the regulation of the transfer, ownership, transportation or possession of firearms."
While Mr. Langerholc and his supporters argue that uniformity in the law helps gun owners ensure that they aren't accidentally running afoul of local rules, opponents argue that pre-emption hampers cities' abilities to protect their residents.
Both Pittsburgh Mayor Bill Peduto and Philadelphia Mayor Jim Kenney wrote to the Senate committee, asking its members not to move Mr. Langerholc's bill.
"As the Mayor of a city that has been particularly ravaged by the scourge of gun violence, I ask that you address the issue of the proliferation of both legal, and illegal guns in Pennsylvania, and in the absence of such action, at least provide me with the ability to address these specialized concerns with local action," wrote Mr. Kenney, a Democrat.
He added later: "It's actually quite astounding how flagrantly this bill was designed to be a revenue generator for the gun lobby at the expense of local governments trying to protect their constituents from gun violence."
His comments come as one major gun group, the NRA, is supporting a lawsuit challenging the city of Pittsburgh's new measure regulating the bullet capacity of certain magazines.
Mr. Langerholc is aware of the criticism about his bill. He notes that it contains language that would require the attorney general to notify all municipalities if it becomes law, in theory giving cities time to repeal local rules before the new measure would go into effect and they could be subject to a lawsuit.
He sees the bill as politically charged and questions whether opponents would be making the same arguments about local control if the issue involved abortion or workers' rights, as opposed to guns.
"Would they still be against it?" he asked rhetorically. The bill, he said, is "about what our assembly has the authority to regulate."
A similar measure became law in 2014, but state courts struck it down. When it landed before the state Supreme Court, the justices upheld that decision. Their ruling was based on a technicality — that the law was not passed using proper procedure — rather than on the merits of the issue.
Since then, there have been times when either the House or Senate has moved a similar bill, but it hasn't yet made it into the law.
Republican state Rep. Mark Keller of Perry County has introduced a bill that is similar to Mr. Langerholc's legislation. He pitches it as an effort to ensure current laws are properly enforced. It says to cities that pass their own rules: "You dare not do that, and if you decide to do that, then you're paying the bill," Mr. Keller said. His bill is currently before the House judiciary committee.
Republicans have the majority in both chambers and therefore control which issues come up for a vote and which ones get passed over. If either bill makes it to his desk, Gov. Tom Wolf, a Democrat who has pushed for further gun control at the state level, has promised to veto it.
The bills for local control
While Republicans mull how to deal with bills strengthening state control over gun regulation, Democrats are preparing bills that would give cities greater latitude to pass their own gun measures, at least in some cases. But they acknowledge that their measures have slim chances of success.
State Rep. Dan Frankel, a Democrat from Squirrel Hill, is preparing two pieces of legislation — one that would strike the prohibition on municipal gun regulations from state law and another that would strike the ban from the Allegheny County code.
But Mr. Frankel, who has been in the House since 1999, acknowledges that the chances of his bill getting a vote in committee, let alone becoming law, are remote while Republicans control the chamber.
"It's really kind of just a statement in terms of what I think we aspire to, which is that if we're not going to address gun violence and sensible gun laws at the state level, we should be empowering our local governments to be able to do that," he said of his proposals.
In the meantime, he plans to focus his energy on blocking the Republican measures if they come up for a vote — he notes that Democratic gains after the November election give him hope.
"I feel pretty good about preventing bad things from happening with this," Mr. Frankel said, "and I think that's pretty much the role we'll play."
Gun issues don't always fall neatly along partisan lines within the state Legislature. Moderate Republicans from areas outside major cities have been known to back gun control, while rural Democrats have sometimes opposed it.
This year, the Republicans pushing for stronger state control come from the middle of the state, while the Democrats pushing for local control come from Pittsburgh, Philadelphia or their surrounding areas.
On the Senate side, Ms. Collett, who is serving her first term, is planning to introduce a bill later this month that would give municipalities greater control over whether guns can be brought onto their property, such as office buildings or parks. Some cities can restrict guns within their buildings because those buildings also house courthouses. Others cannot.
"When it comes to the Second Amendment, private property owners have long been empowered to decide for themselves whether or not they will permit guns to enter or be used in their premises," she said. "This bill simply permits local governments to have the same rights."
"There is nothing," she added, "for responsible gun owners — or the NRA — to fear in this bill."
Ms. Collett acknowledges that gun bills are tough to move, given the deep-seated nature of many people's feelings on the issue. But, she's hopeful for change.
"Call me an optimist, but I believe the tide is shifting," she said.
https://www.post-gazette.com/news/politics-state/2019/05/13/Pennsylvania-gun-control-preemption-Frankel-Collett-Langerholc-Keller-Pittsburgh/stories/201905120084