PA Bill Number: HB2440
Title: Providing for the designation of shooting ranges, sportsman clubs, hunting facilities and business relating to the sale and production of firearms ...
Description: Providing for the designation of shooting ranges, sportsman clubs, hunting facilities and business relating to the sale and production of firear ...
Last Action: First consideration
Last Action Date: Sep 9, 2020
PA Rep Andrew Lewis' 2nd Annual Clay Shoot - 09/18/2020
Hummelstown Field & Stream Association 975 Stoverdale Road, Hummelstown, PA
---
PA Senator Camera Bartolotta's 4th Annual Sporting Clay Classic - 09/18/2020
Seven Springs Mountain Resort 777 Water Wheel Drive, Champion, PA
---
FOAC Monthly Meeting - 10/11/2020
South Fayette Township Municipal Bldg. 515 Millers Run Road, Morgan, PA
Bradford County is a Second Amendment Sanctuary, commissioners say
:: 01/23/2020
Commissioners in Bradford County recently passed a resolution declaring their county a "Second Amendment Sanctuary."
The measure, commissioners said, is symbolic.
But the commissioners in charge of the northeastern Pennsylvania county are also reviewing an ordinance that would prohibit their county from enforcing or providing money to enforce a broad range of gun restrictions.
That proposed ordinance, which so far has not been formally discussed at public meetings, is giving the commissioners pause.
"We've got to do a little more research," said Commissioner Daryl Miller, a Republican who voted in favor of the sanctuary county resolution.
Commissioner Ed Bustin, a Democrat, opposed the sanctuary county resolution. He said the proposed ordinance is ambiguous and would open the county to potential lawsuits.
"I don't think county level officials have the right to just say, 'Sure, the state law says you can't have that weapon. But I think you should have it. So I'm not going to enforce that law,' " Bustin said.
Bradford is a rural county on the New York border. It has a population of about 60,000. President Donald Trump won there with nearly 71 percent of the vote in 2016.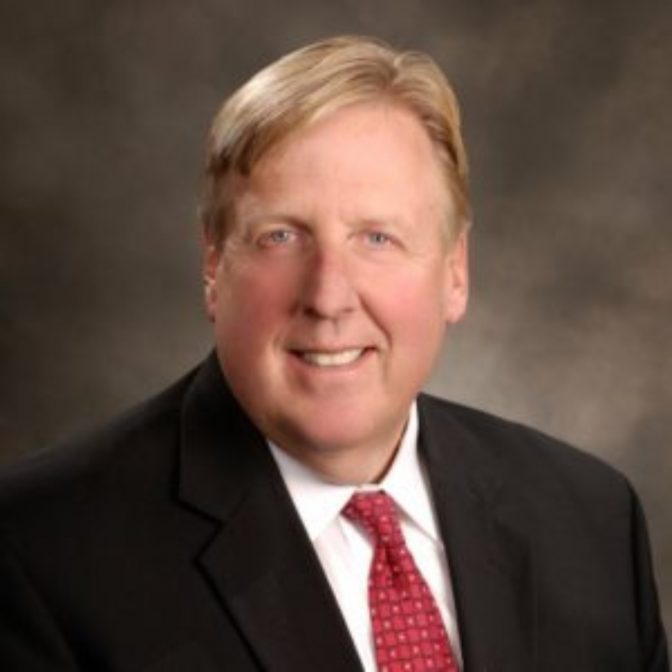 Doug McLinko, chairman of the Bradford County board of commissioners
The three elected commissioners in Bradford County oversee a budget that funds the sheriff's office and most of the court system — two arms of the law enforcement system that would have responsibilities for enforcing gun restrictions enacted by the state legislature.
The dispute over the county's status as a "Second Amendment Sanctuary" is part of a larger fight taking place nationwide.
After Democrats won control of both chambers in Virginia's legislature, more than 100 counties, cities and towns in the state passed some form of a "sanctuary county" resolution, The Associated Press reported in December. The attorney general there, Democrat Mark Herring, issued a legal opinion saying the resolutions "have no legal force, and they're just part of an effort by the gun lobby to stoke fear."
Unlike in Virginia, Republicans still control both chambers of the legislature in Pennsylvania, and no wave of new gun restrictions is expected this year.
But Doug McLinko, chairman for the board of commissioners in Bradford County, said he wants to send a message to lawmakers in Harrisburg and Washington, DC.
"This talk of gun confiscation, and all this stuff in our country right now is insane," said McLinko, a Republican. "And it's got to stop."
McLinko didn't provide much detail on specific legislation he opposes, saying "there's so many floating around." But he criticized new gun restrictions that took effect in April in Pennsylvania.
Among other changes, the law says that people who are ordered to give up guns as part of a civil protective order can no longer hand over those guns to a friend or family member for safekeeping.
Instead, they have to hand them over to their attorney, a commercial armory, a licensed armory or law enforcement agency — a change McLinko objects to. He said the old system worked well, and he wouldn't "want the government putting their fingerprints on my firearms at all."
Commissioner Miller pointed to a proposal — sometimes called a "red flag" law or extreme risk protection order — that would give courts the power to temporarily remove someone's gun rights if a judge determines they are a risk to themselves or others. Seventeen states have passed such a law, although bills in Pennsylvania are stuck in committee.
Democratic Gov. Tom Wolf has also advocated for safe storage requirements and universal background checks, which he says lawmakers can pass while still respecting Second Amendment rights.
McLinko and Miller voted in favor of the county's sanctuary resolution on Dec. 19.
The resolution says the county board opposes any law that "unconstitutionally restricts the rights under the Second Amendment of the U.S. Constitution of the citizens of Bradford County to keep and bear arms."
But the resolution doesn't define what kind of restrictions commissioners consider unconstitutional.
The resolution is vague in other parts, promising "to oppose, within the limits of the Constitutions of the United States and the Commonwealth of Pennsylvania, any efforts to unconstitutionally restrict such rights, and to use such legal means at its disposal to protect the rights of citizens to keep and bear arms."
Val Finnell, Pennsylvania director of Gun Owners of America, is trying to convince county leaders across the state to adopt their own Second Amendment sanctuary laws.
But he said he wasn't involved in the efforts to pass the resolution in Bradford County.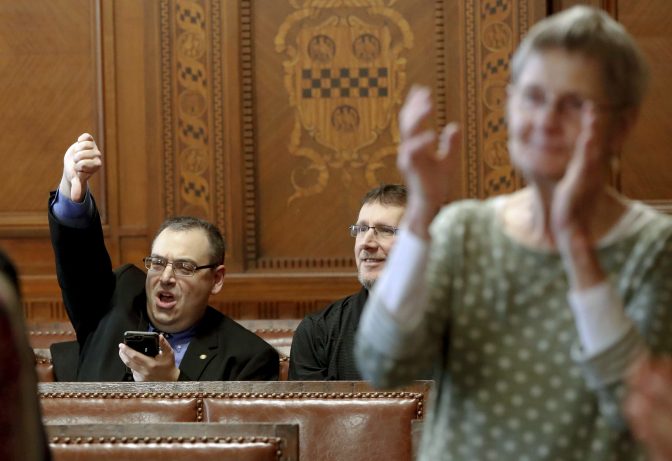 Keith Srakocic / AP Photo
Val Finnell, left, gives a thumbs down, as others applaud after the Pittsburgh City Council voted 6-3 to pass gun-control legislation, Tuesday, April 2, 2019, in Pittsburgh. The bill, introduced in the wake of the synagogue massacre last October, places restrictions on military-style assault weapons like the AR-15 rifle that authorities say was used in the attack that killed 11 and wounded seven.
"That came by surprise," Finnell said.
He noted that resolutions like Bradford's aren't binding. Instead, he recommends counties pass an ordinance that his organization drafted to carry more authority.
Finnell said, so far, people in 61 out of the state's 67 counties are working on getting an ordinance passed. In Pike County, he said, supporters have collected more than 1,700 signatures in favor of such an ordinance.
No counties have passed such an ordinance yet.
Under the draft ordinance Finnell's group provided, counties pledge not to "participate in any way in the enforcement of any Unlawful Act, as defined herein, regarding personal firearms, firearm accessories, or ammunition." And counties would also pledge not to provide any funding that assists an "Unlawful Act."
The draft ordinance provides seven examples of the type of gun restrictions that would be an "Unlawful Act," including any taxes or fees that specifically target guns, any registration or tracking of guns or gun owners, and any restrictions on bump stocks.
A section of the draft ordinance that prohibits any "act ordering the confiscation of firearms, firearm accessories, or ammunition from citizens" is designed to prevent counties from enforcing extreme risk protection orders, Finnell said.
Rob Conroy, an attorney and interim policy director for CeaseFirePA, which supports increased gun restrictions, said past U.S. Supreme Court decisions provide plenty of room for federal and state lawmakers to regulate firearms. He thinks the draft ordinance circulated by Finnell would be unenforceable and could be struck down by state courts.
"But if they do intend to resist any kind of common sense gun laws, they'd be doing a serious disservice to their citizens from a public safety perspective," Conroy said of sanctuary supporters.
Bradford commissioners said they don't have a timeline for any action on the draft ordinance.
"But we're going to look at it and take it seriously," McLinko said.
In the meantime, McLinko said he's talked with the county sheriff about taking some more symbolic action: Posting signs on roads welcoming law-abiding gun owners to Bradford County.
If you're aware of any county commissioners or other elected officials considering passing a Second Amendment sanctuary ordinance, or another gun law, let us know. Ed Mahon can be reached at 717-910-2614 or at emahon@papost.org.
https://papost.org/2020/01/03/bradford-county-is-a-second-amendment-sanctuary-commissioners-say/