PA Bill Number: HB2819
Title: In sentencing, providing for sentences for persons not to possess, use, manufacture, control, sell or transfer firearms.
Description: In sentencing, providing for sentences for persons not to possess, use, manufacture, control, sell or transfer firearms. ...
Last Action: Referred to JUDICIARY
Last Action Date: Oct 6, 2022
Speaking to gun-safety group, Pat Toomey reaffirms support for background check bill
:: 05/04/2017
Coopersburg resident Mary Ann Nord was looking for reassurance when one of her senators,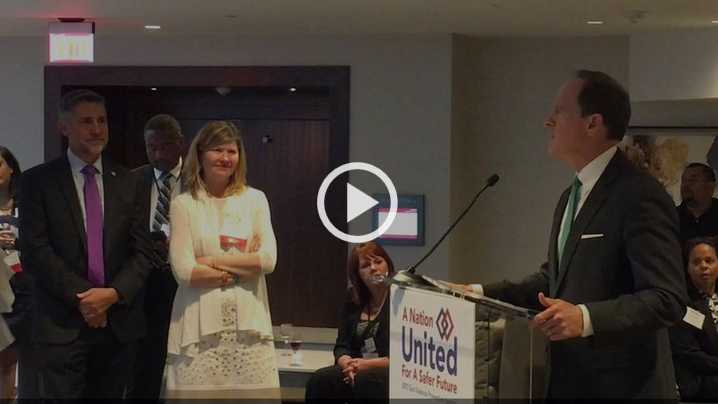 Republican Pat Toomey, headed to the microphone Wednesday during a gun-safety advocacy event in downtown Washington.
Nord, a member of the Philadelphia chapter of Moms Demand Action, a nonpartisan group created after the elementary school shooting in Sandy Hook, Conn., is quick to praise Toomey's work on his 2013 background check bill that stalled in the Senate.
Crafting and pushing that legislation took courage, Nord said. She recalled being in Toomey's office and hearing the phones ringing with angry callers. But more recently, she's been underwhelmed by his actions on the issue.
"Since then, it's not been as clear if he was going to continue to be that kind of an advocate for the cause," said Nord, who spent Wednesday lobbying Pennsylvania legislators and their staffs. "We have been a little bit discouraged that he hasn't been more vocal."
The Lehigh Valley senator told her and others gathered at the Grand Hyatt that he and West Virginia Democratic Sen. Joe Manchin — his cosponsor on the measure to extend background checks to gun show sales and online purchases — still support the bill and finding a path through Congress.
"We have not been successful yet, but my determination has not diminished and one day we're going to succeed on this bill," Toomey told the reception crowd, drawing applause.
The event was part of a two-day summit organized by the Brady Campaign to Prevent Gun Violence and Americans for Responsible Solutions, a group founded by former Congresswoman Gabby Giffords, who was severely injured in a 2011 shooting.
Giffords' group endorsed Toomey during his tightly contested re-election fight due to his efforts on the 2013 gun background check bill. A gun-control advocacy group founded by former New York City Mayor Michael Bloomberg aired pro-Toomey ads, highlighting an issue the senator emphasized as he sought to win over moderate, suburban voters.
He took criticism from gun-rights advocates as a result of the background check bill, and his A rating from the National Rifle Association dropped to a C last year.
Toomey was preceded at the microphone Wednesday by Democrats who urged advocates that in addition to pushing for tougher background checks, they need to fight other legislation, such as a proposal for concealed-carry reciprocity. That measure would require states to recognize concealed-carry permits from other states.
In an interview after his remarks, Toomey said he has generally supported the reciprocity idea, but sees "an understandable concern" from gun-control advocates with regard to states that have fewer requirements.
As for the path forward for his background bill, Toomey acknowledged it won't be easy. Since it failed in 2013, Toomey has said he remains in support, but repeatedly cautioned he is unsure of where to find enough support.
A vote on the background check bill in the wake of the 2015 San Bernardino, Calif., shooting failed by a wider margin, and a renewed debate last year on gun control failed to advance any proposals.
"It's going to be very hard, that's for sure, but I still think there are opportunities," Toomey said.
Toomey described reaching a consensus last year on the concept — but not the logistics — of banning those on a no-fly list from purchasing firearms. He added supporters would likely need to find some sort of provision that could draw support from more Republicans.
After he spoke to the crowd, Nord and Montgomery County resident Elizabeth Lee got a chance to raise a few of their concerns to Toomey directly.
They asked about his votes on last year's gun bills, and the women said later they came away a bit more optimistic about what they might see from Toomey.
"You have to have Republicans participate in this process," Nord said. "It has to be bipartisan, or you'll never move the needle. He's key to that."
Twitter @LauraOlson
202-780-9540
http://www.mcall.com/news/nationworld/pennsylvania/mc-pat-toomey-gun-control-gabby-giffords-20170503-story.html